Do you dream of having sculpted bum and slim legs, but have no time to go to the gym? Build your Brazilian "squat butt" at home! I know, it's not easy, because female body is used to store fat in that very part. But if you exercise persistently, correctly and regularly, you can quickly get in shape. Let me share with you the most effective exercises to do at home.
Booty Shaping Exercises To Do At Home
Follow the proper workout technique to build your perfect booty.
It's very important to do exercises regularly: every day or every other day, but not less than three times a week. Break long workouts into several short ones. For example, instead of training for 3 hours 3 times a week in the gym, exercise 25-30 mins every day at home.
Either look up on the web or ask professionals to learn how to do exercises at home. When the trainer says that your upper body shall be stressed, but you feel stress on your lower body, you must be doing something wrong.
Don't push over the limit. If you do hard core exercises that clearly don't match your fitness level, you will feel nothing but extremely sore and exhausted. Start with simple and intuitive exercises and introduce new techniques and weights every 1-2 weeks.
Breathe. Inhale through the nose and exhale through the mouth. Breathe in on the effort, do not hold your breath.
Don't just pump your butt. A few times a week train your hands, legs, abs. It will make sure that you don't end up with undesired body shape: pumped butt and flabby belly with side fat.
Eat healthy. If you stuff yourself with cookies and french fries right after doing squats, you will never have a "rock-hard high booty".
Get special sportswear. Workout in a bathrobe, jeans, slippers, or barefoot is simply not going to work. First of all, it's not comfortable, pretty or fun. Second, sport shoes decrease the risk of injury and guarantee safety because the body weight is equally distributed on your feet.
Use high-quality sports equipment: training mat, dumb-bell, and weights.
Warm up before and after a workout. It will save you from injuries and muscle strain, and help to release the stress after weight training.
TOP-5 Best Exercises For Butt And Legs To Do At Home
Guess what, perfect booty is all about variations of squats. Do exercises in sets, counting reps (10 to 30) or watching the time (30 seconds for each exercise or with each leg).
Classic Squats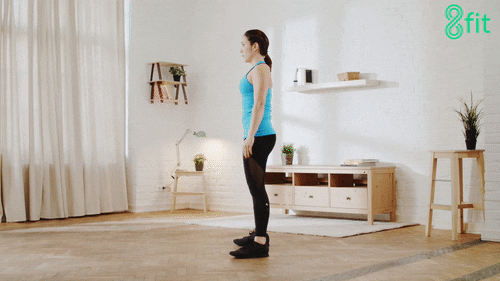 Stand with feet spread shoulder-width apart, toes facing forward, and hands spread apart or fixed at the level of your chest. On the exhale, lower your body toward the floor, bending the knees at 90° neither lower nor higher. Shift your weight toward your heels. Hold it for 1 second and then slowly go back to the starting position. Always keep your back straight when doing squats.
For more of a challenge, do the same exercise with some weights: a bottle filled with water or sand, dumb-bells, or a heavy book. Bent your arms and hold the weights in front of your chest. It will be hard to breathe if you squat with hands down along your body.
Lunges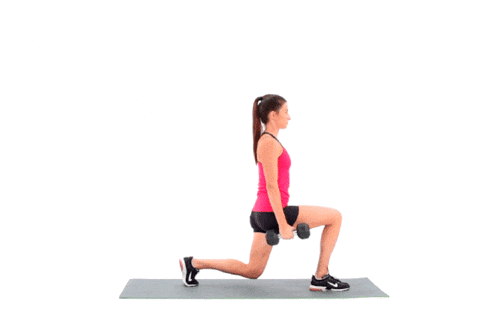 Starting position: standing tall with feet shoulder-width apart. Extend your working leg back and fix it, resting on the toe. Lower your body toward the floor, bending the knees at 90°. Do 10 to 30 reps with each leg.
This is an easy option. For more of a challenge, do lunges forward either with swings, or with weights. For example, you can involve not only the gluteal, but also the femoral muscles. Instead of doing lunges backward and placing your feet on the same line, try moving it slightly to the side and back. At the same time, do not forget to keep your back straight.
Hip Lifts
Lie down on the floor or a mat. Bend your legs, place your hands along the body or in front of your chest holding weights, firmly press your shoulder blades on the floor. Lift your hips up off the ground and create a straight line from your knees to your shoulders, buttocks squeezed not sagging. Make sure to contract your buttocks, not your hamstrings or abs, as you rise. Do 20 reps in 3 sets.
Side Leg Raises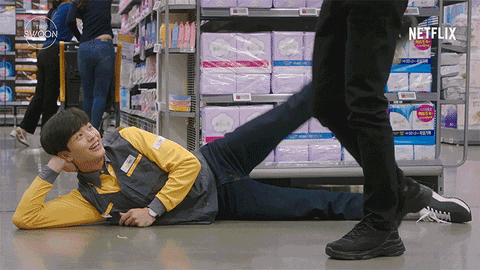 You can do this exercise either lying or standing. Lie down on your side or stand on the floor. Move the working leg up or to the side and hold it straight with the toe facing inward. Do several sets of 20-25 reps with each leg. If you are doing everything right, your upper butt shall be stressed. When the exercises with your own bodyweight no longer get the desired result, put a dumb-bell or any other weight on your foot closer to the knee.
One-Leg Kickbacks
Kneel down resting on your arms or forearms. Bend the working leg at the knee and lift it up, keep the foot parallel to the floor. Remember to bend the knee at 90°. Do not rise your leg above hips and dont point the toe.
There are 2 options for doing this exercise at home:
Dynamic. When the working leg rises and falls on the mat to its starting position a certain number of times.
Static. The working leg is held up for up to 1 minute. You can also push your leg up with a small amplitude, as if springing.
Below you can find examples of workout routine with these exercises. If you do one of these workouts three times a week, after two months you will see the result.